The Structure of Production (3rd Edition)
(NYU Press, 2015)
Since its release in 1990, The Structure of Production has been the underground bible for supply-side economics and Austrian macroeconomics, and an analytical tool to explain asset bubbles, commodity inflation, and financial instability. Now with the adoption of "Gross Output" (based on the Gross Domestic Expenditure statistic introduced in The Structure of Production) by the federal government, Skousen's "Structure" is more important than ever.
Mark Skousen provides a new introduction that updates his four-stage model with new statistical evidence, applications to textbooks, and historical interpretation. Click here for more details on the updates to The Structure of Production.
Economic Logic (5th Edition)

(Capital Press, 2016)
This is Professor Mark Skousen's much anticipated 4th edition of Economic Logic, which includes his chapters on macroeconomic theory and government policy as well as his chapters on microeconomics from the first edition. Skousen's textbook promises a revolutionary pedagogy in teaching economics, with a new micro model that starts with the profit-and-loss income statement and a new 4-stage macro model that integrates micro and macro. Click here for a full summary of this exciting new textbook!
The Making of Modern Economics (4th Edition)
(Routledge, c. 2022, 495 pages, illustrated.)
Here is a bold, new account of the lives and ideas of the great economists–Adam Smith, Karl Marx, John Maynard Keynes, Ludwig von Mises, Milton Friedman, and many others–all written by a top free-market economist. Presented in an entertaining and persuasive style, Professor Mark Skousen tells a powerful story of economics, with dozens of anecdotes, illustrations and photographs of the great economic thinkers. Click here to read more about it!
EconoPower: How a New Generation of Economists is Transforming the World

(Wiley & Sons, 2008)
The power of economic thinking can be explained by seven core principles — accountability, cost-benefit analysis, competition, choice, incentives, investment, and welfare. By understanding and incorporating these principles, better decisions will be made on individual, corporate and government levels. To explain this thesis, the author offers analyses of key economists who have effected significant changes in major domestic and international issues. Click here for more information on EconoPower!
The Big Three in Economics: Adam Smith, Karl Marx and John Maynard Keynes
(M.E. Sharpe, 2007)
The Big Three in Economics, a fascinating new book by Dr. Mark Skousen, Ph.D., is based on the latest historical data and"tell-all" biographies, woven into a cunning plot filled with unexpected twists and turns, and reveals the lives and ideas of the three greatest economic thinkers of all time:
Adam Smith, whose invisible hand concept and vision of rich and poor flourishing together under laissez faire and an unfettered market;
Karl Marx, whose radical solution to the problem of exploitation of the underpriviledged appealed to workers and intellectuals around the globe; and,
John Maynard Keynes, whose theoretical approach to remedy a crisis-prone market system through activist government policies seemed a perfect solution to the Great Depression.
Click here for more information on the Big Three in Economics!
Also available in AudioBook format!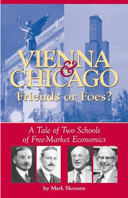 Vienna and Chicago, Friends or Foes?
A Tale of Two Schools of Free-Market Economics
(Capital Press, 2005)In his book, Vienna and Chicago, Friends or Foes? economist and author Mark Skousen debates the Austrian and Chicago schools of free-market economics, two schools in constant, heated disagreement in their theories of money, business cycle, government policy, and methodology. Click here for more information on the book including remarks by Ken Schoolland, the table of contents and more.
The Power of Economic Thinking
(Foundation for Economic Education, 2002)
In his provocative book, Mark Skousen contends that economics is no longer the "dismal" science. It is now the "imperial" science, invading like an army the new frontiers of crime, politics, religion, Wall Street, subjecting new economic analysis to gun rights, racial descrimination, drug abuse, professional sports, health care, grade-school education, and environmentalism. Click here to read more about The Power of Economic Thinking with a glimpse at the Table of Contents!