Another free-market economist has passed away.  Robert Lucas, Jr. (1937-2023) died today at the age of 85.  He was one of the many Chicago economists who won the Nobel prize, his in 1995 for popularizing the "rational expectations" school of economics.  He suggested that Keynesian stimulus and deficit spending may no longer be effective when people anticipate the impact of their policies by raising prices and interest rates.  
On a personal note, his winning the prize in 1995 created some notoriety.  His e-wife has put into their divorce agreement a clause that required him to share half the $1 million prize if he won the Nobel prize within six years.  The clause was due to expire at the end of October, 1995, and he was awarded the prize in early October 1995.  She did not attend the Nobel ceremonies in December.  
I made a point of visiting Bob Lucas at the University of Chicago from time to time. I toured the new business/economics center there last year, and stopped by to see him, but he was away.  
Bob Lucas and the rational expectations school seems to have lost some popularity.  In San Diego in January 2013, I attended and spoke at the American Economic Association (AEA) meetings, where I met with several top economists including Bob Lucas.  Here is my report:  
Keynesians vs. Monetarists: Who Won?
A telling sign at the AEA meetings was the fact that the sessions with Keynesian Paul Krugman were standing-room only, while monetarists including Michael Bordo, Allan Meltzer and Nobel laureate Bob Lucas had a small turnout. Both sessions were held at the same time on a Sunday morning. Speaking before a packed crowd, Krugman made his case for greater deficits, more inflation and higher taxes. Along with Robert Shiller and other Keynesians, he argued that "monetarism" has been discredited. In their book "Animal Spirits," Shiller and George Akerlof don't even mention Milton Friedman's monetary explanation of the Great Depression.
The other session celebrated the 50th anniversary of Milton Freidman and Anna Schwartz's monetary bible, "A Monetary History of the United States," published in 1963. Bob Lucas and the other speakers in that session praised the work as a classic. University of California-Berkeley Professor Christina Romer, former chair of the Council of Economic Advisors under President Obama, called it "one of the greatest economics books ever written." But the panelists contended that the 2008 financial crisis had little to do with monetary aggregates (M2 rose 10% in 2008) but rather bad regulatory policies in homeownership and government-guaranteed mortgages (Fannie Mae and Freddie Mac). But Friedman and Schwartz are still relevant, they said, because their work demonstrated that "monetary shocks" such as bank failures can have serious adverse effects in the global economy.
Meanwhile, I noted, M2 was growing at a 10% rate in 2013, taxes were rising and government was expanding.  Krugman was winning!  
The Federal Reserve as the Engine of Inflation
"No major institution in the U.S. has so poor a record of performance over so long a period, yet so high a public reputation." — Milton Friedman
One of the most popular AEA sessions was a panel on the 100th anniversary of the Federal Reserve. The most shocking graph was presented by Ken Rogoff, a Harvard economist.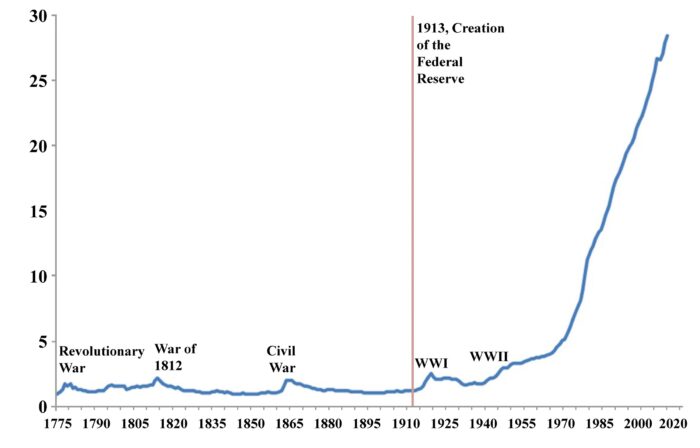 As the graph indicates, from 1775 until 1913, there was virtually no price inflation other than during brief periods of war, which caused temporary inflation. What happened in 1913? The Federal Reserve was created and we ultimately went off of the classical gold standard.
Professor Rogoff noted that since the Fed was created, prices have skyrocketed 30-fold, or 3,000%! This data confirms Murray Rothbard's contention that the Fed was created to remove the barriers to inflation, not to control it.
Another "public policy" session in San Diego discussed a survey of top professional economists that looked for any consensus on international, labor, education and macro issues. The survey showed, surprisingly, that economists agree 70% of the time, such as on the idea that "vouchers help kids."
Ironically, economists were 100% in consensus on only one issue — they disagreed with the statement, "The gold standard should be adopted." Not a single professor said "yes." I guess economists aren't really serious about taming inflation.
Despite the fact that the Fed engineered all of this inflation, causing the Great Depression, and failed to regulate the mortgage banks prior to the 2008 crisis, all of the panelists gave high marks to the Fed! In fact, they praised Chairman Ben Bernanke even when I asked if any of the panelists would have fired him for the Fed's failings. 
Best wishes, AEIOU,
Mark
Mark Skousen
Doti-Spogli Endowed Chair of Free Enterprise Chapman University

Producer, FreedomFest
"The World's Largest Gathering of Free Minds" 
July 12-15, 2023, Memphis Convention Center
www.freedomfest.com